WEDNESDAYS at 7PM • YOUTH ROOM
Our goal as a church and as a youth group is to preach the gospel without reservation in a way that speaks directly to our young people. We respect our youth and believe that God has called them for His will and for His good pleasure. There are many places and forums you can visit to spout off whatever you think and whatever you're feeling but here at CCC you will be heard and valued without fear of being judged. CCC is a place where everybody is somebody and Jesus Christ is Lord including our youth!
CAPTIVATED JUNIOR HIGH • ETERNAL CHOICE HIGH SCHOOL MINISTRY

Our prayer is that you will experience the love of God and grow in the grace and knowledge of our Lord, Jesus Christ; all while making good friends and having lots of fun!

Join us in the youth room upstairs after worship where we open the Bible and dive into the life changing Word of God.
As a small group, there's plenty of time and leaders for questions, and personal ministry,
so don't hold back!
You are welcome just as you are to come visit or stay a while.
Schedule of events is available in the youth room.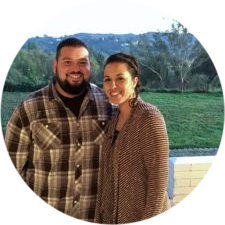 MEET OUR LEADERS
PASTOR DUSTIN & SARA PARASPOLO
Dustin & Sara have been in youth ministry for over 15 years and have enjoyed every moment!
They have a child of their own named, Sofia, who has become the Youth "Mascot".